HISTORY OF THE SHILA PEOPLE

Who are the Shila People:
The Shila people originate from a branch of the pre-Chitimukulu Bemba who migrated from current Northern Province of Zambia to the Mweru-Luapula area and  established the first centralised state among the "chiefless" Bwilile long before the arrival of the Lunda in 1740.
Shila was a name adopted by the people born out of the inter-marriages between the Bemba (led by Nkuba Mukuka) and the Bwilile. The name was derived from taboos (imishila) connected with hunting and fishing. The people practising the taboos called themselves Abashila – the sacred or pure ones.
Map of the Shila Migration: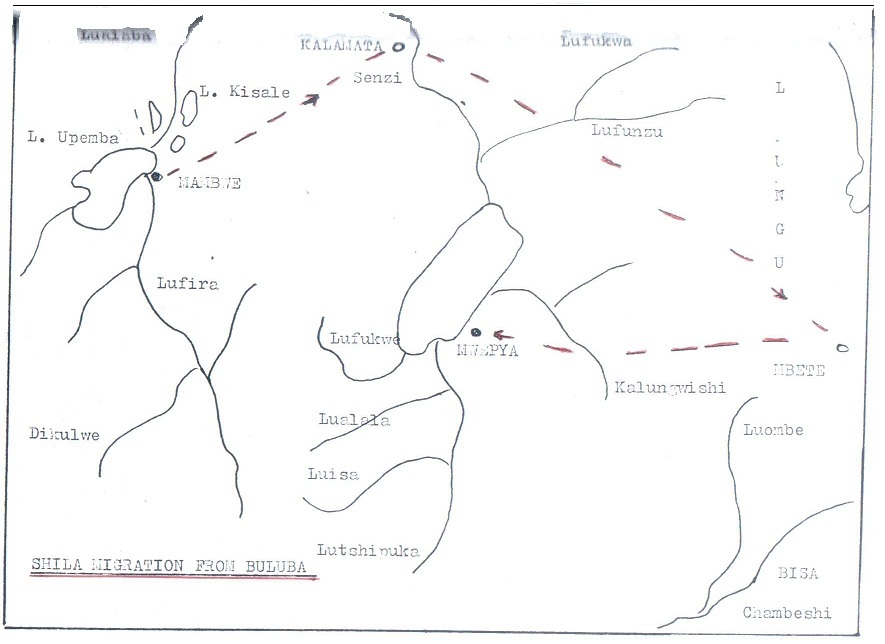 Historic Timeline of the Shila People:
(Most content obtained from Professor Musambachime's thesis published in 1976. Some dates have been approximated on the basis of anaysing content inter-linkages by the timeline compiler, Mr Chishimba Yumbe).
Time  

Activity

11th to 14th Century

Arrival of the Bwilile people from Eastern Congo DR into the Mweru-Luapula area.

Around 1630 AD

Arrival of the Pre-Chitimukula Bemba

from current Northern Province of Zambia into the Mweru-Luapula area, led by Nkuba Mukuka.

(The Bembas, led by Seya, had previously migrated from Mambwe in the current Congo DRC a generation or two earlier – see Map, having broken off from the Luba Empire during the reign of Kasongo).

The existence of ivory trade with the coast and reports of discarded ivory was certainly a major factor in inducing Nkuba Mukuka to migrate to Mweru-Luapula.

1630-1650s

Nkuba Mukuka marries chieftainess Mwepya's daughter.

Chietainess Mwepya dies and Nkuba Mukuka's wife takes over.

Nkuba gradually assumed political power, leaving Mwepya to perform her religious functions.

Nkuba took a trip to Kalungwishi area to inspect the salt pan his scouts had located. He appointed Mununga Chilumbwe son of Namumpundu to remain in the area and organize salt production.

In this northern exploration, he located the salt pans at Ifuna (Mukunga), Katete (Puta today, Kakwale (Pweto and Kasama areas), and Filumbi (Kapulo area). He explored the southern Malungu plains as far as the Lufunzu river, a tributary of the Luvua.

An indecisive battle took place between Nkuba and Kamena, a Bwile chief. The border between the two was agreed to be along the Luzungu river.

Nkuba appointed his son Muchelenge as the chief in the northern area.

Nkuba assembled a fleet of canoes and prepared to sail to Kilwa and punish Kaponto who had refused to pay tribute.  Nkubas canoe capsized drowning both Nkuba and Mwepya.

1650s-1670s

Chileshe succeeds Nkuba Mukuka after his demise.

Increased expansion through conquest, intermarriage and integration of the Bwilile clans the by the Pre-Chitimukula Bemba led by Chileshe, to effectively establish the Shila State and People. Shila was a name adopted by the people born out of the inter-marriages between the Bemba and the Bwilile.

The south ward expansion of the state is credited to Chileshe, popularly referred to in traditions as Mubemba.

His first task was to carry out his brothers resolutions to punish Kaponto. He sailed to Kilwa but Kaponto surrendered without a fight. Kasongo, Mukuka's eldest son, was appointed to be the ruler in Kilwa.

 

He sailed along the Luapula and came to Chisenga island in the Mofwe lagoon, where Twite and his sister Mwele lived. During their stay Nkuba proposed marriage to Mwele. She agreed. Chileshe shifted his capital from Mwepya's to Chisenga Island.

Chileshe also continued to maintain contact with relatives in Lubemba, sending the regular gifts.

Chileshe took a trip to upper Luapula, he crossed to the eastern bank of the Luapula River subdued's Kabeli,a Bwilile clan leader near the present site of Mwansabombwe, kazembe's capital . He absolved the several small families and clans living beween the Ng'ona and Kaombe rivers.

He met Malebe, they fought an indecisive battle and this resulted in an agreement to establish their boundary along the rocks (mwala wa) of micence. This is near Kapala's village today. 

Chileshe then crossed the western bank   of the Luapula and fought  another indecisive battle battle with Nkambo . They established he southern border along the Lushipuka river.

1670s-early1700s

Stable Shila empire under successive Chiefs Nkuba.  Continued integration of  Bwilile people into Shila State.

Early 18th Century

Ostensibly, weakened Shila State due to ineffective/relaxed Chief Nkubas Weak Shila State.

Split into two Nkuba Chiefs on either side of Lake Mweru:

The extent of disunity among the Shila chiefs came into the open after the death of the Kasongomfumu. Before the installation of Lubao Nsenshi to the Nkubaship, Kaweme, the Shila chief of Bukongolo are put forward his bid for the Nkubaship,     claiming that Lubao Nsenshi was weak and lacked leadership qualities required of the position.

Kaweme was disappointed by the rejection of his candidacy. To register this disappointment, he decided to take a new title – Nkuba Chimbala . This new title meant in part that he was now Nkuba's equal.

Nkuba Lubao, remembered as a weak man who loved to drink beer, left Kaweme undisturbed.

His failure to act coupled by his administrative inefficiency, decline of tours alienated him from many Shila chiefs. It registered the start of the decline of the Chisenga Island as the political centre of the state.

Early 18th Century

Arrival of the Bwile led by Mpweto Mutita Kaloba or Katontoka.     The Bwile trace their origin to Buluba. They trace the origin of their chieftainship to Kumwimba , perhaps Kumwimba Mputu, who might have been the sixth Luba chief.

                                                Shila Chief Muchelenge allows the Bwile into his territory and marries Mpweto's sister Chaleka.

                                                Chaleka delivers a still born baby and, as per tradition, pressure is put on Muchelenge to cede some salt pans as compensation. Muchelenge wary that this demand is targeted at taking over land.

                                                Muchelenge appoints some Bwile  headmen of two salt pans at Kakwale and Filumbi in submission, but further pressure by Mpweto forces him to travel to Nkuba (at Chisenga village) for consultation. Muchelenge dies on his way and buried at Chitutu village.

                                                Muchelenge's sister Mengelwa takes over but met with increased pressure by the Bwile.

The Bwile gradually began to assume political power. The Bwile claimed land from the Muntemune stream on the west to Kalobwa stream on the east. Mengelwa became chief in name only and her political power was confined to the Muntemune area.

Mpweto Mutita Kaloba divided the new territory between brothers and nephews

1740

Arrival of the Lunda from Mwata Yamvo in the present Congo DRC.

They defeated the Ushi, Bena Mukulu, Bisa and Bena Chishinga before coming to Mweru-Luapula area.

The Lunda forces were opposed by Nakabutula, the Shila ruler in Kapweshi area.  The superior force of the Lunda forced her to flee to her brother Katele at Lunde.

1740s

Lunda kill Shila chiefs Nakabutula and Katele. Apparently no reaction from Chief Nkuba.

1760

Conquering of Nkuba at Chisenga Island by the Lunda. Nkuba eventually killed by Kalandula.

1760-1770

Nkuba's son Muchinda installed as new Nkuba by the Lunda.

Kalandala, a Lunda, marries Muchinda's sister Ntambo (their son to succeed as Nkuba VI).

Lundas impose tribute system on Nkuba

1770-1780

Loss of confidence in Nkuba at Chisenga Island by Shila Chiefs. Shila chiefs turn to Nkuba Chimbala at Lukozowa (Kawema) on the western shore of Lake Mweru.

1800s -1922

Continuation of Nkuba and Senior Chief Mununga Dynasties:

Mununga Kapongo. Died mysterious circumstances while bathing at river. Body never recovered. Suspected suicide therefore, not honoured as Mununga I.

Mununga 1 Chilumbwe

Mununga 2 Kabila

Mununga 3 Chinkobwe

Mununga 4 Chikonka

Mununga 5 Kapelemena

Mununga 6 Chibowo

Mununga  8 Mukeya Mununga Mushota

1922-1926      

Mununga 9  Lubala

1928-1966

Mununga 10 Kabole Fyanifyani

1967-1990

Mununga 11 Lutanda

1991-1993

Mununga 12 Tandabube

14/12/1994-26/9/2005

Mununga 13 Katubo

26/9/2010-Date

Mununga 14 Mutampuka II Chula I